Posted by Team Osprey on Sep 10th 2020
Buying An Optic For You Or Someone Else

There are many factors to consider when.Things you should take into account include your budget,what caliber and style of rifle you are using and what you want to achieve. For example There is zero point putting a long range sniper optic on an AK that is only capable of a few hundred yards. We have put together a list of things to think about before pulling the trigger on the best optic for you. So if you are a little overwhelmed by the choices available to you and are struggling to figure out why one is better than the other, then this article should help you narrow down your choice. It is something that will remain on your rifle for some time to come, so it is a good idea to get something that will make you smile every time you look through it.
What Rifle And Caliber Are You Using?
This may seem like a no brainer but many people forget to take the weapons limitations and strengths into account. If you have a blackout, notorious as a great put down rifle up to 150 yards, and also has a severe bullet drop after a hundred yards, it has actually earned itself the nick name of a watermelon round ( the caliber drops like a watermelon after 100 yards). If you have a rifle like this then the name of the game would be to prioritize an optic with quick target acquisition and something useful for self defense or hog hunting and other close range activities. If you have a hunting rifle or sniper caliber or something more versatile then you may prefer to think of a longer range optic as your preference.
What Do You Want To Do With It?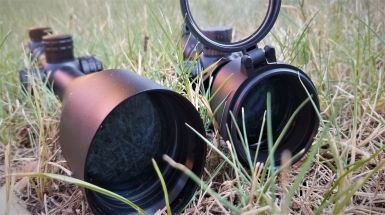 After you have figured out what your weapons limitations are then think about what you want to achieve with that particular set up. You may have a 6.5 Creedmore that is capable of a thousand yard shot but if you are honest with yourself you may know that you are probably never going to go beyond 500 yards. In this situation you may want something like a 4-16, capable of getting into mid range shooting but not so big its going to weigh you down. Another common opton is wanting to be able to hunt regularly at or below the 200 yard range but occasionally reach out to the longer ranges. Something that is ideal for every day hunting but also with capabilities of longer range if necessary is the Tactical Riflescope 6-24X50mm MDG/IRF. It is popular for all round use but is also capable of a thousand yards, though it won't leave you much breathing space; an excellent choice all round hunting capabilities, long range hunting and occasional pushes up to a thousand yards. If you want to dedicate to long range shooting, and you are not bothered about anything under 300 yards then a Tactical Riflescope 10-40x50mm, built to reach out in comfort would be great. It Is ideal for long range and comfortable in the long shooting world but lacks fast target finding capabilities usually associated with a more tactical optic. Get the right tool for the right job and you will never be dissapointed.
What Experience Do You Have?
The MOA 4x32mm is one of our more popular AR Optics, especially popular among current and ex military. It is reliable and inexpensive but It has a tight eye relief that lends itself to the training and shooting drills practiced in the army. On the other hand I give the same scope to someone with a different training background then they will find it uncomfortable having to get so close to the back of the scope to get a full view. The most popular optics usually have a more forgiving eye relief like the Tactical Riflescope 1-4X24mm MDG or the AR Optic Riflescope 1-6X24mm or some of our other long eye relief optics. It is like comparing a motorbike and a Bentley, One isn't necessarily better than the other, it just depends on what you want to do.
Long Eye Relief and why I bang on about it
At Buy Osprey Global one of the things that sets us apart is our ability to make shooting comfortable with our extended eye relief scopes. Scopes like the Tactical Riflescope 1-4X24mm MDG or Tactical Riflescope 1-6X24mm are classic tactical platform optics. Though at BuyOspreyGlobal we have superior eye relief on scopes not traditionally known for comfortable spacing like the 4-16 and 6-24. It is one of the unique traits of Osprey Global that sets them apart from the competition.
Do You Want To Grow Or Stay The same? Do you want to learn something new?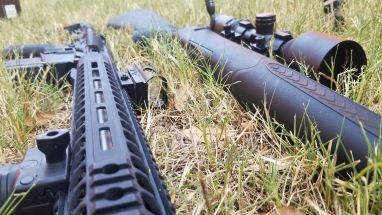 If you already have experience then some thought should be given to where you want to go next in your trigger pulling career. Do you want something that will be purely functional and you are using as a tool on the ranch or do you want to grow into longer range or tactical shooting scenarios. I have friends who have never shot a red dot, maybe now is the time to experiment with tactical shooting and training on clearing rooms and self defense situations. The polar opposite of that is First Focal Plane shooting, where you have a reticle that retains proportions all the way through the variable magnification range. It looks like it grows and shrinks with the target size. Many long range shooters swear by this and our most popular First focal plane is the 3-30 which gives you many options for target shooting, long range shooting and hunting.
Magnification? What to consider.
When you weigh up your experience, what rifle you have and what you want to achieve the image of the magnification should be an easy and logical step to take. If you are shooting an AR or tactical platform out to 200 yards you will not need an AR optic with more than 6 power at the top end of magnification. This is why the 1-6 is so popular with AR platforms and three gun competitions. If you are Trying to reach a thousand yards you will most likely want upwards of 24 power to reach out accurately. If you want to do both, it can get tricky, as most scopes lean towards long range, mid range or short range, not many do all three well. One that is one of my go to hunting scopes is the Elite Riflescope 5-30X56mm. This means it magnifies from 5 power all the way to 30 power! The lower the magnification the faster the acquisition of the target so 5 power and below is ideal for hog hunting and other fast paced target finding. The higher the top end power the further you will be able to see and accurately group your shots. The 5-30 is my favorite short to long range hunting optic.
Budget? How much should you spend.
You get what you pay for, but there are many companies that are doing the similar quality for different prices. I wouldn't spend less than $200 on an AR optic and ad an extra few hundred for a longer range scope. Does that mean the scopes costing a few thousand dollars are not worth it? Absolutely not. It depends on who you are and what you want to achieve. The main thing is to have a reason why you are spending the money. What can you not do now that the new scope will let you achieve? Does it have a first focal plane? Has it got a larger objective or locking turretts or some other feature you feel you need to grow then if you can afford it then spend the money. If you want to hunt something and reach out to 1000 yards and you don't really care for bells and whistles then you can get change out of $500. You can get quality for a good price but sometimes if it looks to good to be true it probably is.
Thoughts On Choosing For Someone Else.
Shopping for someone else? It can be hard but if you know the above information and know the person you are shopping for then it isn't so daunting. Find out what caliber they are shooting and what they want to achieve. If they are shooting AR but you know they have trouble seeing then an AR optic with some magnification would be suitable. If they hunt a lot and have ten other hunting rifles then see what kind of stuff they already have. It never hurts to ask them either, what magnification they want or what they have their eye on.
AR Optics: What To Look For.
Tactical optics with good eye relief and fast target acquisition that is good in short range but has some magnification to reach out to 300 yards. All of the following have lit reticles for low light hunting which also translates to self defense situations. Compact 3-9x42IRF is our best selling AR Optic while the TA1-4 and TA1-6 are extremely popular with blackouts and AR's and also common in three gun competitions. The Core Riflescope 3-12x44is popular among AR 10 for its superior magnification and also useful for those that enjoy some extra help seeing things far away.
Hunting Optics : What To Look For.
Classic hunting options could be on anything from a 223 to a 7 mag. I have included optics that are Capable of 500 yards and have larger objectives 50mm or above for better light transition. They also have illuminated reticles for low light capabilities. For the best use of illuminated reticles click HERE.
Hunting Riflescopes Options ;
The most popular hunting magnification is 4-16, and we have two 4-16 optics. The Signature Riflescope 4-16X50mm and the Elite Riflescope 4-16X56mm - MDG. They are both excellent hunting riflescopes, the main difference between the two is the Elite has a larger objective size making the low light picture even clearer. Another popular option is the 6-24x50 IRF, with a six power on the low end of magnification, which is still low enough for quick target acquisition but giving you extra power at the long end to make further shots easier and for finding details at range you may nt be able to see with a lesser magnified scope. My personal favorite all round hunting scope is the Elite 5-30x56 due to its large range of magnification making it ideal for a low range hog in low light to a 600 yard shot on an elk in the colorado back country.
Long Range Target Shooting : What to look for.
When getting into long range shooting having extra magnification helps you see the target which may seem obvious. Detailed reticles and different turrett options are important and often things people do not think about. Just because you can see it doesn't always mean you can hit it.
Long Range Options:
The Elite 8-32x56 is popular with hunting and target options. It has enough power and enough details on the reticle to reach beyond the thousand yard marker but still light enough and durable enough for hunting applications. Coupled with the illuminated reticles and easily re-settable turrets it makes it an ideal choice for target and hunting applications.
The other option is the Elite Riflescope 3-30x56mm - FFP which is one of our prime first focal plane scopes. It has locking turrets and a precision reticle which is excellent for targets hooting but weighing in at 62 ounces it is one of our heavier scopes and it is usually preferred to bench this bad boy.
No Such Thing As The Perfect Option
Did this confuse you more about your options? Don't worry, the best rule of thumb is to start small and work your way up. Get a top end 6 or 9 power scope and see what you feel is lacking. If you need more power or less power, maybe you need better light or clarity or if you want more details on the reticle. Think about what you have used in the past with success and think of the direction you want your skills to move. If you have used a red dot the logical progression would be to try some magnification. Do not just jump in over your head. The more you pull the trigger the more you will define what works for you.